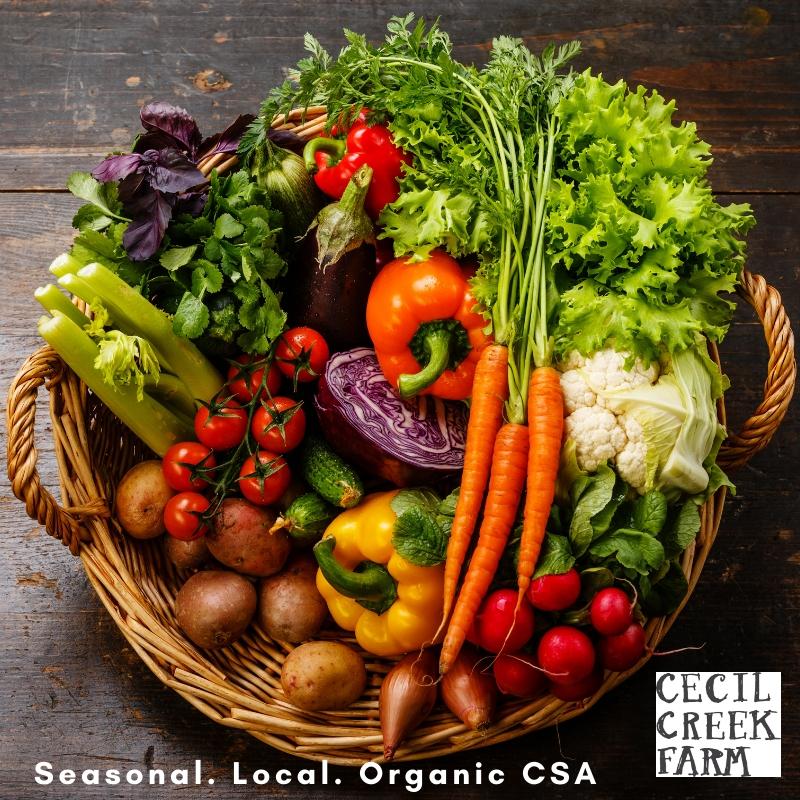 2023 CSA Organic Veggie Share
There are several different options for your families veggie share! You can choose a Summer Quarter (for singles & seniors), a Summer Half Share (half a bushel basket), a Summer Full Share (a full bushel basket), a Fall Quarter or Half Share, or for the best value and most convenient option choose the annual membership that runs for 26 weeks combining the summer and the fall.  
Members will receive a bag, basket or bushel at the start of the season which they bring each week to collect "their choice" from an assortment of 6-8 seasonal organic vegetables from Cecil Creek and (our sister) Summer Wind Farms. Additionally, members, will have access to U-pick herbs, crops and cut flowers throughout the growing season! 
     Full Share feeds approx. 4-6 people. - Full Bushel

     Half Share feeds approx. 2-3 people - Half Bushel

     Quarter Share feeds 1 person - Reuseable Shopping Bag

     Newsletter provides recipes and storage tips each week.
2023 Season Price: 
Summer Full Share: $825
Fall Full Share: $410
Annual Full Share: $1,155
Summer Half Share: $470
Annual Half Share: $770
Fall Half Share:  $360
Summer Quarter Share: $275
Fall Quarter Share: $195
Annual Quarter Share: $440
Length:  
Summer Only: 18 weeks / May 26-September 23
Fall Only: 9 weeks/ September 29-November 18
Annual*: 26 weeks/ May 26-November 18
What are the Crops? One of the greatest benefits of joining an organic CSA is eating seasonal local ORGANIC produce all summer long at a fraction of the cost of retail produce! The farms bounty varies throughout the season. The early summer focuses more on greens like lettuce, chards, kale, cabbage and other early season items like radishes and peas. As we get into mid-summer, tomatoes, peppers, eggplants, cucumbers and squash take a bigger role along with Jersey sweet corn. Late summer and fall bring a return to the greens as well as broccoli, cauliflower, sweet potatoes and collards. There will be a very wide variety of produce and we will keep you informed as to what's coming up for harvest. Frank is a foodie so you can be sure that he will have many new and different items in addition to the Jersey basics! We'll have some great family recipes available to assist you with meal planning especially when we have new or unusual items. We'll also have fresh herbs and cut flowers available in the CSA U-pick garden behind the market.